Hartmut Haenchen
Conductor
Hartmut Haenchen's high intellect and musical integrity have secured his place in the forefront of musical life. Born in Dresden, Hartmut Haenchen has been a member of the Kreuzchor Dresden. Following his studies at the local conservatory and as a trainee for Pierre Boulez and Herbert von Karajan, as well as consecutive studies with Arvid Jansons and Evgeni Mrawinski, he became the conductor of the Robert-Franz-Sing-akademie and the Staatskapelle Halle.
Engagements at medium houses were quickly followed by his debut at the State Opera Berlin with Boris Godunow and the appointment as conductor of the Dresden Philharmonic from 1973 until 1976. During this period he appeared as a permanent visitor of the Semperoper Dresden. From 1976 until 1979 he led the Mecklenburgische Staatskappel Schwerin, as well as the Staatstheater, followed by a time as freelance artist.
In 1986 he moved to the Netherlands and was appointed Chief Conductor of the Netherlands Philharmonic and Chamber orchestras, and Music Director of Dutch National Opera, where he conducted a broad repertoire from Gluck's Alceste to B.A. Zimmermann's Die Soldaten. Furthermore, he has been on the conductor's stand of the Chamber orchestra Carl Philipp Emanuel Bach for almost 35 years. (1980-2014).
Guest engagements led him to renowned houses, such as the Teatro alla Scala, Royal Opera House Covent Garden, Theater an der Wien, Opéra National de Paris, Bayerische Staatsoper München, the three opera houses in Berlin, Théâtre Royale de la Monnaie Brussels, Teatro Real de Madrid, LA Opera, New National Theatre Tokio, as well as the Bayreuth Festival, Warsaw Autumn and Kirishima Festival in Japan.
He worked together with the world's greatest orchestras including the Berlin and Munich Philharmonics, Sächsische Staatskapelle Dresden, Gewandhausorchester Leipzig, Concertgebouw Orchestra Amsterdam, all great orchestras of Paris, such as the Orchestre de Paris and Orchestre Philharmonique de Radio France, Orchestre symphonique de la Monnaie Brussels, Orchestra dell'Accademia Nazionale di Santa Cecilia Rome, Orquesta Sinfónica de Madrid, Royal Danish Orchestra, Royal Stockholm Philharmonic Orchestra, Oslo Philharmonic, Helsinki Philharmonic Orchestra and Japan Philharmonic Orchestra. Engagements in the season 2019/20 lead him i.a. to the Royal Opera House Covent Garden, Vienna State Opera, Bavarian State Opera in Munich, Zurich Opera, as well as to the BOZAR in Brussels.
Hartmut Haenchen has made over 130 recordings with different orchestras for Berlin Classics, Capriccio, OpusArte, Pentatone, Philips, Sony Classical, Vanguard and ICA Classics. These include a substantial discography with his Kammerorchester Carl Philipp Emanuel Bach. His DVD of Mahler's Symphony No.6 (Orchestre symphonique de la Monnaie / ICA Classics) was awarded a Diapason d'Or. He is also the author of many books on music.
Besides several awards, Hartmut Haenchen was awarded the Federal Cross of Merit of the Republic of Germany, in recognition of his outstanding contribution to music and the arts.
South Netherlands Philharmonic
Symphony Orchestra
The South Netherlands Philharmonic is an ambitious and flexible symphony orchestra, lauded for its high quality, close cooperation, and appealing enthusiasm. The orchestra is being led by CEO and artistic director Stefan Rosu. The passionate musicians deliver custom work on the highest, artistic level under the driven baton of chief-conductor Duncan Ward. In season 2022, the orchestra is full of confidence, as one of the cultural jewels of South-Netherlands society.
The orchestra performs the complete and varied symphonic literature and takes a stand for innovation with adventurous cross-over programmes like i-Classics and bridging the divide with the world of business during Leading the South. In addition, the South Netherlands Philharmonic is the symphonic laboratory of the Maastricht Centre for the Innovation of Classical Music (MCICM).
Education is an integral component of the orchestra. Children of all ages can come and experience the power and magic of live music up close.
Hans Eijsackers
Pianist

Hans Eijsackers studied with Gérard van Blerk, Jan Wijn and György Sebök. In 1992 he obtained his diploma with distinction at the Sweelinck Conservatory in Amsterdam. After that he was invited to study at the European Mozart Academy in Krakow. This resulted in performances in Europe, Southeast Asia and New York. Hans won several music awards. For instance, he received the Silver Medal of the Friends of the Concertgebouw twice. Hans is a regular guest at various festivals and from 2007 to 2010 he was artistic director of the "Uitgast Festival", a musical summer open-air event in the Nature Park in Lelystad.
In recent years he has been featured in the solo programs "Homage" and "Bella Italia". Hans has worked with Otto Tausk, Neeme Järvi, Gordan Nicolic and Yannick Nézet-Seguin, among others.
Since 2013 Hans has been appointed Professor Liedgestaltung at the Robert Schumann Hochschule in Düsseldorf. He also teaches chamber music at the Royal Conservatoire in The Hague and is artistic director of the International Student Lied Duo Competition in Groningen and programmer of the International Lied Festival Zeist. He also frequently performs as a soloist, chamber musician and song accompanist.
Hans Eijsackers has been a competition pianist with the IVC many times and was a member of the international jury of the IVC LiedDuo Competition in 2016 and First Round jury in 2019 and 2021.
Hans Adolfsen
Pianist
Hans Adolfsen initially studied singing and then piano at the Utrecht Conservatoire. In his specialization as a song accompanist he found the ideal combination. In the meantime, he has given song recitals in a large number of European countries, in collaboration with Ulrike Andersen, Renate Arends, Marcel Beekman, Robert Braunschweig, Wilke te Brummelstroete, Rea Claudia Kost, Michael Leibundgut, Yvonne Naef, Marcus Niedermayr, Thomas Oliemans, Kresimir Strazanac and Hanneke de Wit, among others. Since a few years he also performs regularly with the American saxophonist Harry White. Hans Adolfsen has worked intensively with vocal pedagogue Margreet Honig (Amsterdam) for many years. Partly because of this, he is in great demand as a vocal coach.
He has made several CD recordings, including songs by Johannes Brahms with Lenneke Ruiten (Brilliant Classics), songs by Rudolf Escher with Marcel Beekman and Roswitha Müller (Ottavo) and songs by Sergei Rachmaninow with Elisabeth Ebbink. With pianist See Siang Wong (Guild)the CD Piano Duets was released.
Hans Adolfsen teaches song interpretation and proofreading at the Zurich University of the Arts. In Zurich, he is a board member of Liedrezital Zurich.
With the Sen-Trio (with the actor Jens NIelsen and the singer Ulrike Andersen), he gives regular performances that combine poetry with light music. He has performed in Germany and Switzerland. With his brother Kees Adolfsen (trombone, lyrics), a series of performances is planned with a musical portrait of Ramses Shaffy.
In addition, he is becoming increasingly popular as a composer. He composed songs on texts by Annie M.G.Schmidt and two song cycles: Ein umgekehrter Wellenritt (D.Mayer) and Landgewinnung-nicht ganz 40 Versuche zur Gegenwart (U.Andersen). He wrote a quartet commissioned by the famous Raschèr Saxophone Quartet. In collaboration with the University of Basel he composed a cycle on texts by Sappho.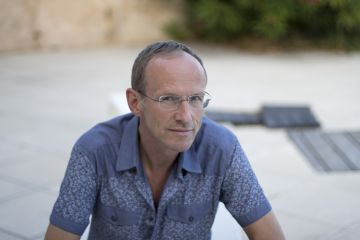 Hans Adolfsen
Ian Tindale
Pianist
British pianist Ian Tindale is increasingly in demand in song and chamber music and has performed across London, the UK and Europe. Recent engagements have included song recitals at the Oxford Lieder Festival, Buxton Festival and Ryedale Festival, and he frequently collaborates with artists such as Soraya Mafi, James Newby, Anna Harvey, Josep-Ramon Olivé and Rowan Pierce.
Ian read Music at Selwyn College, Cambridge, and continued his studies at the Royal College of Music (RCM) in London with Simon Lepper, John Blakely and Roger Vignoles; he graduated with distinction in 2013. In 2017 Ian was awarded the Pianist's Prize in the Wigmore Hall/Kohn Foundation Song Competition following performances with duo partner soprano Harriet Burns. Ian has also won accompaniment prizes at the Kathleen Ferrier Awards, Royal Overseas League Music Competition, Gerald Moore Award and Maggie Teyte Competition. Ian has worked with established artists Ailish Tynan, Christopher Purves, Susan Bullock and Nicky Spence and performed in masterclasses with Graham Johnson, Malcolm Martineau, Sarah Connolly, Gerald Finley, Thomas Allen, John Tomlinson, Felicity Lott, Brigitte Fassbaender, Elly Ameling and Olaf Bär. Ian was a soloist for a royal audience at Buckingham Palace as part of the Royal Music Day for Schools, and he has performed at the British Ambassador's Residence in Paris and for visits to the RCM of the First Lady of China and RCM President HRH the Prince of Wales. In both 2016 and 2017 Ian performed at the Wigmore Hall Samling Showcase after being selected as a Samling Artist in 2014, and he continues to work as a pianist and coach for Samling Academy. Ian is also a Britten Pears Young Artist.
In 2018, Ian gave the world premiere of Daniel Kidane's Songs of Illumination at the Leeds Lieder Festival with tenor Nick Pritchard. They gave the work its second performance in June 2019 in Harrogate, alongside song cycles by Finzi and Schumann. Ian returned to Leeds with Laurence Kilsby in 2021 to present a programme of Schubert, Schoenberg and Wolf. Ian has formed a fruitful collaborative partnership with soprano Harriet Burns: following performances with Harriet in the 2019 International Vocal Competition in 's-Hertogenbosch, they were both awarded the prize for the Contemporary Set Work, Oh che tranquillo mar by Sylvia Maessen. Together, they have also appeared at the International Lied Festival Zeist and at the Ryedale Festival, where they collaborated with the Albion Quartet and flautist Adam Walker. Ian and Harriet most recently presented a programme of Schubert and Wolf as 'Emerging Artists' at the Oxford Lieder Festival 2020. Other previous highlights for Ian include a recital tour throughout Europe with baritone and ECHO Rising Star Josep-Ramon Olivé in venues including Het Concertgebouw, Amsterdam, and Palau de la Música, Barcelona; a recital at the Wigmore Hall with soprano Soraya Mafi as part of their 'Relaxed Concerts' series; and a programme of songs on the topic of the natural world with baritone and BBC New Generation Artist James Newby for Lewes Festival of Song.
Recent highlights include Britten, Tippett and Shostakovich songs for English Touring Opera; the 25th anniversary Samling Artist Showcase at Wigmore Hall; and a recital tour of the Netherlands with Harriet Burns. Recent recording projects include a sequence of song recitals video-recorded in lockdown with singers such as Robin Tritschler and Julien van Mellaerts, and the first in a planned series of recordings with Ensemble Kopernikus exploring the chamber music of Percy Hilder Miles for MPR.